Go Back

​Who are Vanquis?
We help people who are often excluded by mainstream banks take control of their financial situation. Whether they're new to credit or need a hand rebuilding their credit file to manage life better, we join our customers on their journey to better credit by providing them with opportunities to access credit where it may otherwise not be available. We open the door to more affordable borrowing and we lead the way towards more effective money management.
Part of the Provident Financial Group (PFG)
You can trace Vanquis back 130 years to Bradford when our parent company, Provident Financial Group (PFG), first started. They are the UK's leading suppliers of personal credit products to the non-standard lending market. As well as Vanquis, PFG specialise in consumer credit with the Provident and Satsuma Loans brands. It also owns Moneybarn, which specialises in car finance for consumers in the non-standard credit market.
Our Blueprint​​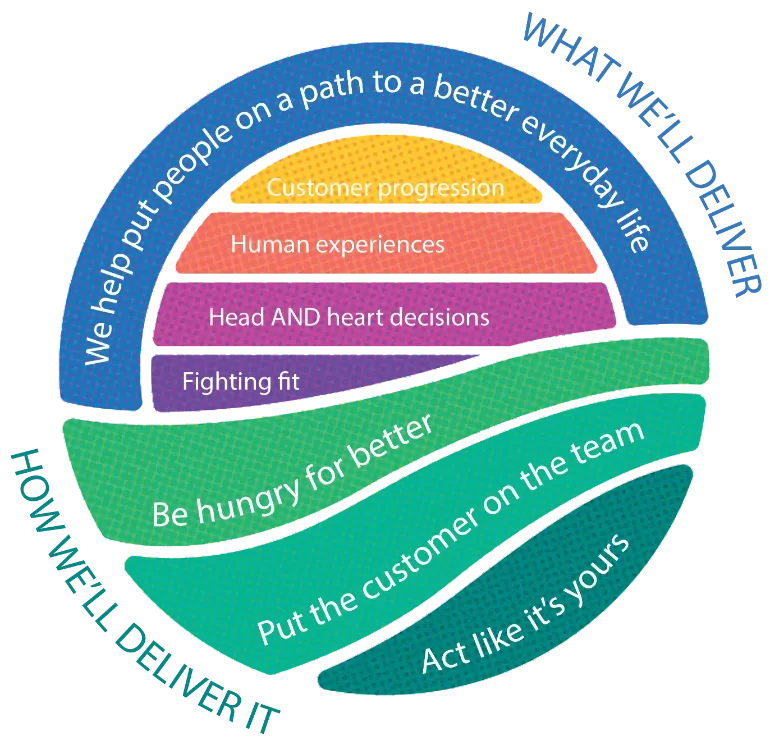 In 2019 we launched a brand new Group Blueprint. It has one, single mission: We help put people on a path to a better everyday.
This purpose brings together why we exist as an organisation and the role we play in the lives of our 1.8 million Vanquis customers. It's the reason we all come to work, it unifies all of the businesses across PFG and it's something we live and breathe every day at Vanquis.
You'll notice it says the word "people" rather than customers, because they are only half of the equation. Our colleagues are what make our business and they are the most important part of delivering on this purpose. If it wasn't for their amazing efforts, ideas and energy we wouldn't be the successful business that we are today. So whether it's better everyday communication, consistent recognition or clearer career paths, we aim to make working at Vanquis mean more #MakeWorkMeanMore
Our Journey
We have an exciting future ahead of us at Vanquis, but it's important that we don't forget the journey we've taken to get where we are. Over the past 16 years, we've seen some brilliant successes. Our history means we've been able to help over 4 million people, who may have been turned away by the bigger banks, to build or rebuild their credit rating and therefore put them on a path to a better financial every day life.
Our Contact Centre
Our contact centre is the heart of Vanquis. It's where we connect with our customers and help them on a path to better finances.
Find out more about the various roles within our contact centre and current jobs here.
​
Specialist Sectors

Contact