We recognise the importance of candidate engagement throughout the end-to-end candidate journey to avoid losing talent from the recruitment funnel.
GROW (Get Ready for Opportunities at Work) offers an accredited, module-based training program for frontline contact centre advisors and is designed to complement and support the in-house training function.
Our program aims to provide a well-rounded introduction to the contact centre industry and organisational expectations before candidates begin their roles, equipping them with the necessary skills and knowledge to thrive in a fast-paced contact centre environment.
Key Benefits of New Recruits Embarking on this Programme
The GROW programme offers numerous benefits for new recruits, creating a supportive and enriching environment that sets the stage for their career success in the contact centre industry.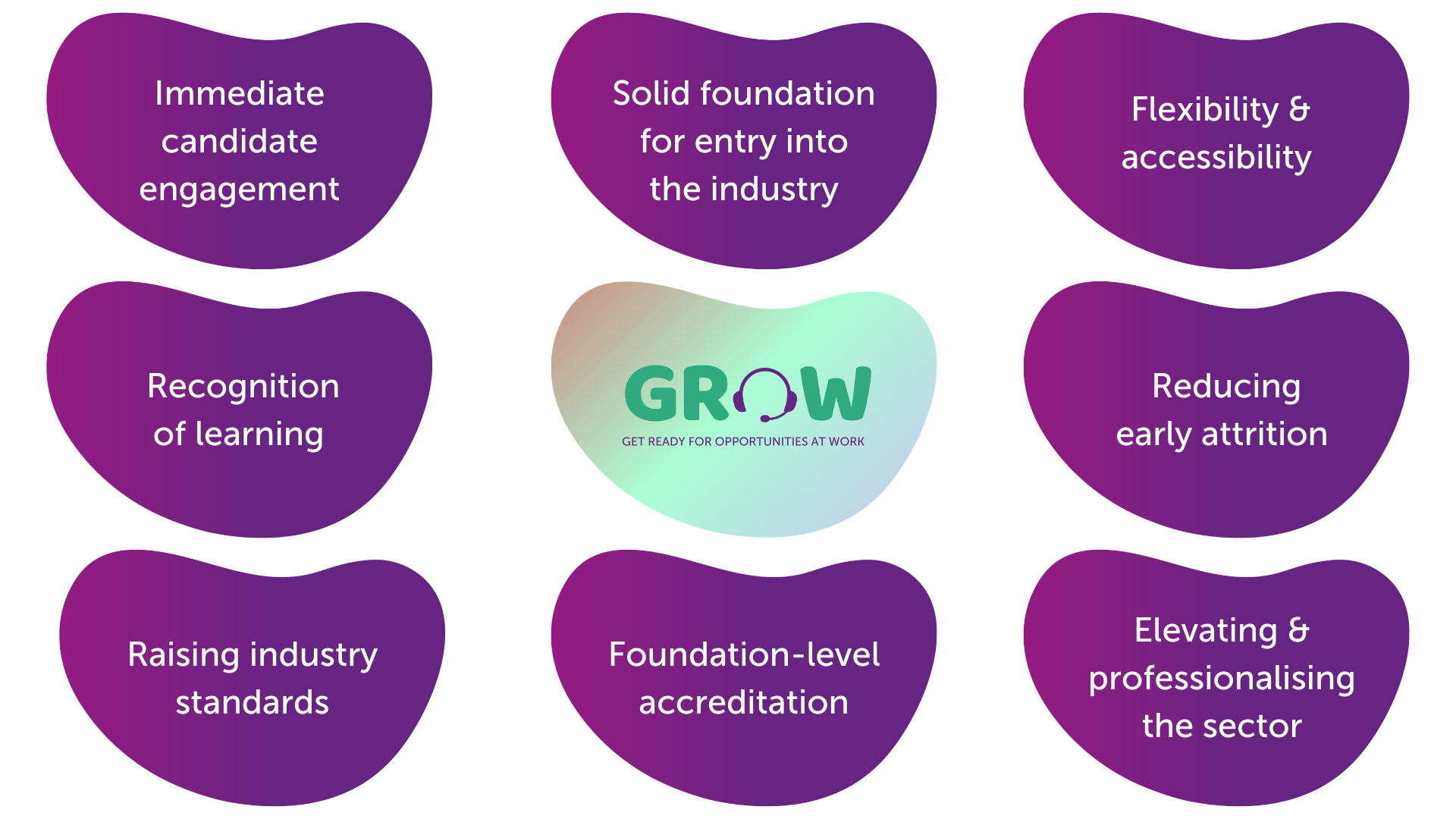 Our goal is to attract the right talent to the industry, reducing attrition rates and improving the overall quality of the contact centre workforce while contributing to the long-term sustainability and growth of the industry.
By effectively managing candidates' expectations and offering foundational professional accreditation, we position the contact centre as an attractive career choice for diverse candidates with transferrable customer service skills from sectors such as retail, hospitality, and leisure. The programme can also be used as a refresher for those already working in the industry.
Our range of e-learning modules spans a comprehensive array of topics pertinent to the contact centre industry. These include an in-depth introduction to contact centres, offering detailed insights into their historical development and modern-day evolution, a comprehensive exploration of prevalent terminology, and guidance on the multifaceted career paths available within the industry.
Additionally, there will be a downloadable slide and exercise and access to relevant Best Practice Case Studies to consolidate learning where relevant and a Learning Log to capture comments, thoughts, and ideas.
By providing foundational training in these critical areas, we set the stage for your in-house trainers to focus on delivering training on systems, processes, and the unique aspects of your business, ultimately ensuring a well-rounded and effective onboarding experience for your new contact centre advisors.
Furthermore, our training program is accredited by The Forum, which enhances the industry's perception and provides a clear path for candidates to pursue further credentials. This accreditation adds value to the learning experience, making it an attractive proposition for candidates looking to develop their careers in the contact centre industry.
This programme fosters an environment of learning and development that goes beyond basic job training. It encapsulates a vision to nurture contact centres as professional, dynamic workspaces where important skills can be gained and unique careers can be built.
We're promoting the contact centre sector as a career of choice, not a stepping stone or temporary job. With the wealth of opportunities available and the breadth of skills to be acquired, we aim to shift perceptions and encourage recognition of the contact centre industry as a rewarding, professional sector with significant growth potential. Our commitment to this vision contributes directly to the ongoing elevation of industry standards and reinforces the value and professional status of contact centre careers.
Learn more in our digital flipbook below:
*These sessions can also be delivered in person throughout the UK upon request.