Back to events
04 October 2023
09:00-10:30
greenbean, The NEON Building, Quorum Park, Newcastle, NE12 8BU 
​You're invited to join us in celebrating 'Customer Service as a Profession' during National Customer Service Week on Wednesday, 4th October. Celebrate the power of exceptional customer service and be part of the conversation that's transforming the industry. It's also a great opportunity to share how you are celebrating customer service excellence.

Date: Wednesday, 4th October
Time: 9:00 am - 10:30 am
Venue: greenbean, The NEON Building, Quorum Park, Newcastle, NE12 8BU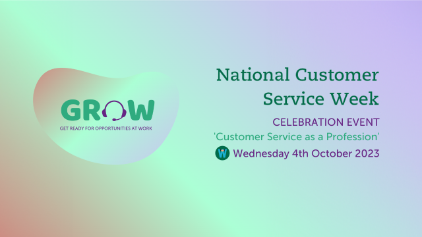 Agenda:
9:00 am: Coffee and Conversation -Network with fellow contact centre professionals from operations, HR, Recruitment & L&D over a good cup of coffee, pastries, and breakfast.

9:30 am: Welcome & Introduction - Learn about the revolutionary GROW programme from our keynote speakers.

10:00 am: Q&A

10:15 am: Discussion 'What are you doing to celebrate NCSW?'

10:30 am: Close
In partnership with The Forum, we are excited to unveil the GROW (Get Ready for Opportunities at Work) programme—a game-changing approach to attracting and nurturing talent in the contact centre industry., GROW delivers a comprehensive recruitment, training, preboarding, and onboarding journey, designed to attract talent from sectors known for their outstanding customer service skills, including retail, leisure, and hospitality.
Designed to complement in-house training, the GROW programme sets the scene for new recruits even before their first day in the role. This early investment in their career allows candidates to know what to expect and prepares them for a smooth transition into their roles. The GROW programme, with its emphasis on accredited learning and professional development, positions the contact centre industry as a professional career choice, setting it apart from other sectors. By raising industry standards and showcasing contact centre careers as a career of choice, this will become a differentiator for businesses looking to attract top talent. As quoted by Chris Rainsforth "This will become the gold standard in contact centre recruitment".
Don't miss this opportunity to learn, connect, and celebrate the importance of customer service as a profession.

Please RSVP to Julie Mordue by email here. We look forward to celebrating with you!