Back to Blogs
Helping to Build Atom Bank Within an 18 Month Period
The Challenge
​Atom Bank entered into partnership with us to help build the UK's 1st digital only bank based in Durham in the North East of England.  The success of this challenger bank relied on their ability to attract highly skilled talent to what was then an unknown brand and yet to obtain its banking licence, remote from the traditional banking or FS hotspots, and as a start-up Fintech business had limited internal resources to support the hiring team.
​

The Scope
Project management of end-to-end talent acquisition including attraction, offer management, vetting & referencing and on-boarding

Fulfilment of all appointments from executive board to entry-level across all business areas including: Audit, Risk & Financial Crime, Business Testing & Change, HR&D, Service Delivery and Business Development

Supporting relocation of senior stakeholders and families to the region

Scale-up support to meet increase in volumes once banking licence obtained
​Phase 1: Working collaboratively with the Atom Executive team we delivered the first stage of high-profile senior appointments to enable the launch which included: Chief Risk Officer, Head of Service Delivery, Head of Compliance, Chief Audit Officer, Head of Customer Propositions, Head of Financial Crime, Head of HR, Head of Solutions Delivery, Head of Systems Testing, Head of OD, Head of Operational Risk, Head of User Experience.
​Phase 2: Recruited and strengthened these functions with underpinning management and operational delivery teams. This phase saw emphasis on marketing, propositions and intermediaries.
​Phase 3: Included the recruitment of critical roles within the technology and customer support functions including Customer Advisors, Project Managers, Data Analysts, Regional BDM's, Developers, Insight Analysts, Mortgage Underwriters, Business Banking Executives and Trainers.
The Solution
Mobilisation of dedicated Talent Acquisition team including support business functions i.e. marketing & compliance

Bespoke branded careers site linked to integrated ATS technology

Assisted in developing creative role profiles aligned to ethos, values & culture of the brand

Dual branded attraction & PR campaign to leverage on greenbean brand

Design & deliver recruitment & assessment processes
The Result
150 permanent hires & 20 technical contractors within 18-month period

Supported Atom Bank to build an internal recruitment team and sustainable direct hiring mode
"Atom selected greenbean as their resourcing partner due to the expertise and capability in project management, extensive recruitment knowledge and the credibility of the greenbean team, who will reflect Atom's values and vision in the resourcing process"
Chief Operating Officer, Atom Bank
​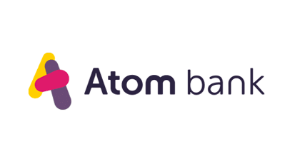 Rethink the way you recruit, optimise your approach to hiring talent and keep abreast of the latest tools and legislation.
Measurement is intrinsic to the success of our work, demonstrating what works and where to improve, while informing future approach to resourcing processes and strategy.