Back to Blogs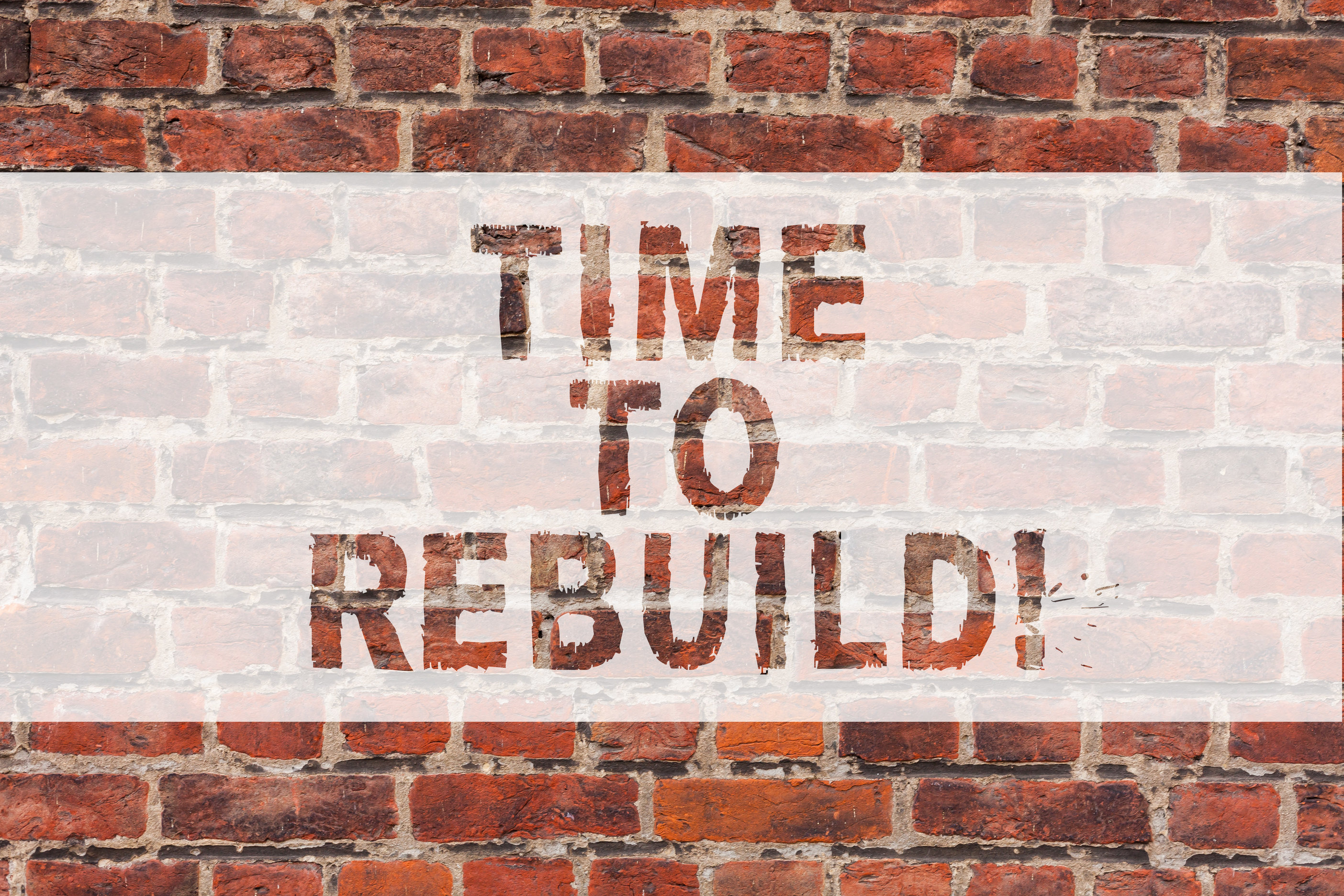 Plan to rebuild business through change and transformation
The UK Government has now revealed their three-phase strategy 'Our plan to rebuild' for gradually lifting restrictions in response to the Covid-19 crisis. Business leaders are now in uncharted waters and need to plan to rebuild their business. They must learn from the pandemic and create a recovery plan which will see them recover and emerge in a new world, a stronger and more resilient business.

We asked one of the UK's leading Business Change and Transformation consultants for his thoughts on what business leaders need to consider as we move through the phases to lift current restrictions.
Define outcomes, design roadmaps and drive operational and behavioural change
"I've 20 plus years' experience in delivering operational change and significant transformation across several sectors including Financial Services, Retail, Telecommunications, Outsource Service Provision, Private Equity backed organisations & Start Ups.

I work with senior executives in organisations looking to transform or deliver cost or revenue benefits of up to £100m. This is done by implementing effective operating models and governance structures via a full costed delivery plan.

Through open and transparent leadership, encouraging participation at all levels, I use teams drawn from the business, bringing in external expertise as required. We engage stakeholders to define outcomes, design roadmaps and drive operational and behavioural change.  The agreed changes drive the improvement of margin, customer service and colleague engagement".
The  people aspect
"It's a very challenging time and whilst technology has supported remote and flexible working, we need to think about the People aspect.

Remote and flexible working will be a positive thing for those of us with families and busy lives outside of work. For some colleagues it may reinforce feelings of detachment and loneliness.

As leaders, we have a duty of care for our teams and colleagues. I know we are supporting them as best we can via team events, quizzes and social video catch ups. One of the best bosses I had made a point of sharing his views and connecting at an emotional level on a 1-2-1 basis.  We discussed everything except work until the last 5 minutes of any chat. Needless, to say, people wanted to work with them, be in their team and deliver.

I learnt never to underestimate small gestures and sincere interest in colleagues as people with lives outside of their work.

In recent times, most of the change and market disruption has been driven by technology. Going forward, I believe the next phase of disruption will be People led within organisations and society. A change to the norm has been bubbling under the surface for a while. The pandemic and lockdown have accelerated the pace of People led change. We now have remote GP consultations. This may have taken another ten years without a driver. Why go backwards and remove this capability?"
Recognise and embrace the coming disruption
"According to psychologists, it may take approximately 21 days of conscious and consistent effort to create a new habit. We've been in lockdown for over 7 weeks, 50 days, twice as long to make a new habit. This will have significant impacts on pre-lockdown ways of working globally.

In business and society we've seen an increase in behaviours:

Agility

Decisiveness

Collaboration

Flexibility

Innovation

Empathy

Imagine if we saw these behaviours continue post lockdown?  Society would be a kinder and nicer place to be, whilst organisations could have a significant competitive advantage.

For this to be realised and to get ahead of the market and competition, organisations should start to recognise the coming disruption. Embrace it. Make it work for them. Get an edge. There will need to be significant levels of organisation and individual adoption and adaptation of the new behaviours.

If we achieve this, we will have engaged, happier colleagues, who will have a higher level of effectiveness and innovation".
Refine it, embed it and role model it
"The key here is not to default and revert to pre-lockdown. It would be sensible to review what is working well and what isn't.

Keep what is good and refine it, embed it and role model it. Don't let it become the new BAU. Continually challenge the ways of working.

As for what isn't working, reinvent it, innovate, be creative. Best of all, ask your teams and colleagues to do this.  A leader does not have the monopoly on How, What, Why, Who and When.

Businesses went into crisis when the pandemic arrived. Managers freed teams to 'get stuff done'. Teams were successful, effective, innovative. They were collaborative and worked with purpose. Why go backwards?

Managers need to reinvent themselves as leaders who build a culture and environment for people to be successful. Most importantly, let go of traditional control and oversight".
Competitive advantage in recruitment
"The simple answer is that organisations will want stability. Organisations may try to achieve this by reverting to pre-lockdown ways of working. If organisations do this, they are missing an opportunity to gain a lead in the market.

There should be an expectation that after an initial return to work and bedding in period, several individuals could look to leave. Key employees with highly marketable skills and experience may consider a move to other organisations.

You then add the IR35 factor. The supply of skilled contractors to drive change and cover skills gaps may not be there.

A culture of purpose, that is outcomes focused, and provides flexible working shows high levels of trust and self-direction. This can be a recruitment differentiator, a competitive advantage in attracting top talent.

Think about the level of flexibility, self-direction we've all got used to. We are recognised for our delivery, our outcomes. How we get there is without management oversight, measurement or review.

Now imagine yourself being told to be in the office 8:30am til 5:00pm Monday to Friday. How does that make you feel?

If you choose to stay, how motivated, engaged and effective will you be?

Maybe you'll start to look for organisations that will give you flexibility, latitude, the space to perform and to be recognised as an individual and team member".
Coming out of lockdown should be viewed as a piece of organisational transformation
"The transition from lockdown to post-lockdown should be viewed as piece of organisational transformation. Designed, planned, executed in a balanced manner with significant levels of engagement with colleagues and teams.

If done professionally, brand image with existing & potential colleagues will be enhanced. This in turn will attract the best skilled individuals to come and work for you.

Steve Jobs is attributed with saying "It doesn't make sense to hire smart people and tell them what to do – we hire smart people so they can tell us what to do".
The trick is to get out of the way of smart people to allow them to deliver
If you embrace outcome-focused, flexible, agile and remote working it will cut your cost base. Is there the need for a large city centre or business park office footprint? There's your business benefits case for investing time and money in flexible working and cultural change.

You may even seek to strip out layers of supervision and management that only serve to provide oversight.

Most commentators are predicting a commercial property crash post-lockdown as colleagues are unhappy or unwilling to conform to a Monday to Friday, 9am to 5pm work pattern.

The change needed post-lockdown isn't simply about flexible, remote working. It is about cultural change across the whole organisation.

Robust recruitment process

Attracting the best talent that supports your culture, whilst also being acceptably disruptive

Having leaders who are emotionally intelligent and relaxed enough to let go of control, to get out of the way of individuals and teams to enable delivery

Driving collaboration and removing silos
Unique time for change
"It often takes an external professional to drive deep change agendas, as most incumbents will emotionally seek stability in the status quo. This serves to undermine the level of change required to outperform your competition. Areas for consideration:
The definition of how you want your organisation to be

The identification of the required changes in people, processes & technology to support new ways of working

The agreement to the scale of your change aspiration

The production of a change roadmap to move forwards

Ongoing support as your organisation owns and drive the implementation

​

"This is a rare opportunity where people's minds and hearts are open to change. Let's make it work for us."
​
​
​
​