Back to Blogs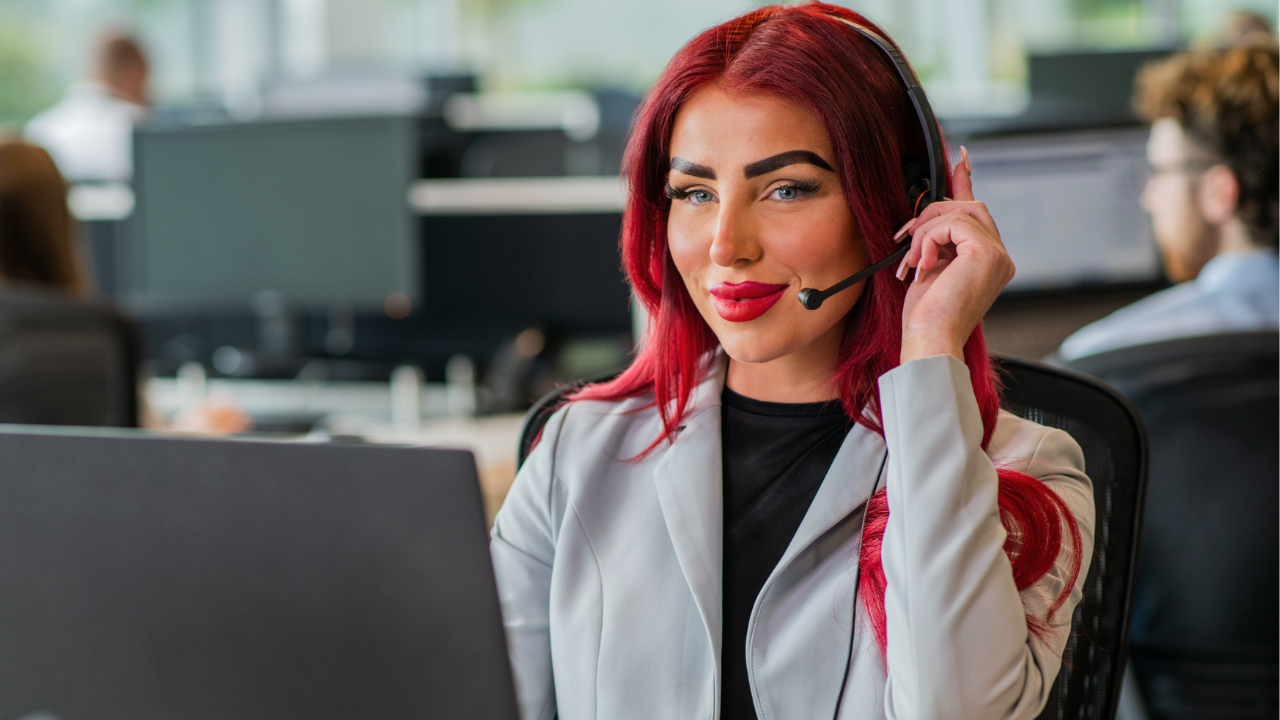 Call Centre Helper's 2023 Research Unveils Vital Insights on Industry Trends
Call Centre Helper recently embarked on its annual survey to glean insights into the evolving landscape of call and contact centres. With responses collected throughout June and July 2023, the research promises to shed light on several pertinent aspects of the industry.
This study, conducted in partnership with Sabio, Centrical, Odigo, Scorebuddy, and NICE, garnered responses from 216 contact centre professionals, bringing a wealth of insights to the table. Here, we provide a concise overview of the primary findings related to recruitment and onboarding.
The Current Mood in the Contact Centre
Considering a Career Shift? One of the intriguing areas the research delved into was professionals' inclination to leave their current positions. The survey posed: "Are you likely to leave your current call centre (by choice) for a new opportunity elsewhere within the next 12 months?" The responses provide a snapshot of the current mood in the sector.
Of those surveyed, 48.3% indicated they weren't considering leaving, while 26.6% admitted they were actively looking for other opportunities. Interestingly, another 25.1% were unsure. This means that over a quarter are actively considering new positions, with an additional quarter being passive candidates. It's worth noting that passive candidates can easily be influenced by factors like a challenging day at work or a timely approach from a recruiter after a difficult day.
Challenges in Enhancing Advisor Experience
Call Centre Helper's survey highlighted the main challenges professionals face in improving the advisor experience in call and contact centres. A significant 58.4% pointed to budget constraints as the top hurdle, closely followed by 53% citing high contact volumes and workload. Managerial coaching skills, technology issues, and remote working dynamics were also identified as major concerns, with 43.1%, 40.6%, and 32.7% respectively. In summary, while budgetary constraints top the list, a combination of workload, managerial support, technology, and work environment intricacies play pivotal roles in shaping the advisor experience in call and contact centres.
​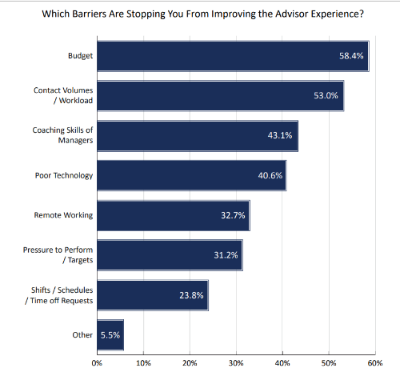 Efforts to Combat Attrition
Recognising the endemic issue of attrition in contact centres, the survey probed into the measures being taken to address and mitigate this challenge.
While 30.2% have effectively reduced attrition rates through their initiatives, 25.9% have seen little to no change despite their efforts. Interestingly, 23.4% don't perceive attrition as a concern, and 20.5% are restricted by budgetary constraints. The data underscores the varied approaches and challenges faced by contact centres in handling attrition.
From the data, it'sevident that while a considerable portion of contact centres have taken successful initiatives to curb attrition, others either face budgetary restraints or don't see attrition as an immediate concern. The insights also underscore the importance of effective strategies in managing and potentially decreasing attrition rates.
​
Tackling Early Attrition: greenbean's GROW Programme
With early attrition being a significant concern in the industry, its repercussions are felt not just in an organisation's performance but also in how the industry is perceived. This perceptiongreatly influences the sector's ability to attract talent with desired skills from diverse fields. It underscores the urgency for contact centres to embrace structured initiatives that prioritise professionalisation, robust workforce engagement, and solid professional accreditation. By doing so, they can uphold a gold standard of service, mitigate early attrition, and improved employee satisfaction.
greenbean's GROW Programme offers a comprehensive solution. The GROW Programme focuses on equipping professionals with the skills and credentials they need, while also fostering a culture of growth, understanding, and motivation within the call centre environment.
If you're a stakeholder in the call centre industry and are grappling with attrition or other related challenges, it's time to consider greenbean's GROW Programme. By investing in your workforce, you're not only ensuring quality service but also creating an environment where professionals thrive and grow.Learn more about how the GROW Programme can transform the way you recruit and onboard talent into your contact centre here.
This overview captures just a glimpse of Call Centre Helper's research. Further details can be found in the complete report here.